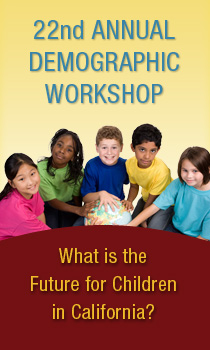 On kidsdata.org, we offer data down to the city or school district level. But we often hear that, while useful, those data just aren't local enough for some purposes.
Last week, we presented kidsdata.org at the 22nd annual Demographic Workshop at USC. This year's conference focused  on the future of California's children, and brought together key groups of demographers, economists, city planners, and children's health experts from across the state.
At this conference — and during our many other trips to the Los Angeles area — we hear that LA in particular needs more local data. The vast diversity within the county — as well as it's sheer geographic size — mean that information about particular  communities cannot be derived from data at the county level. Even within school districts or cities, socioeconomic diversity exists.
In LA County, we know that data would be valuable at the zip  code level, or by Service Planning Area (SPA). Trouble is, many of the most trusted and reliable data sources don't offer data at that local a level. When those data are available, the resources needed to cut the data that way can be prohibitive.
But there are a couple of resources that may be helpful. Try HealthyCity, or AskCHIS for local data.
Do you face this issue in your work? If you know of data sources that offer zip code — or even more local — data, please note them here, and be a resource for your colleagues working on behalf of kids.
Tags: Data Challenges
Posted by Felicity Simmons
This entry was posted on Thursday, June 3rd, 2010 at 1:20 pm. You can follow any responses to this entry through the RSS 2.0 feed. You can leave a response, or trackback from your own site.