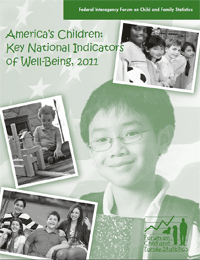 A new report released this week by the Federal Interagency Forum on Child and Family Statistics (a.k.a. ChildStats.gov) summarizes how American children are faring using 41 key indicators offered through federal data sources.
This annual report, America's Children: Key National Indicators of Well-Being, 2011, aims to depict "both the promises and the challenges confronting our Nation's young people." The report includes measures of child well being in seven areas: family and social environment, economic circumstances, health care, physical environment and safety, behavior, education, and health.
Highlights include:
Tags: Data Projects, Data Sources
Posted by kidsdata.org
This entry was posted on Friday, August 26th, 2011 at 9:50 am. You can follow any responses to this entry through the RSS 2.0 feed. You can leave a response, or trackback from your own site.