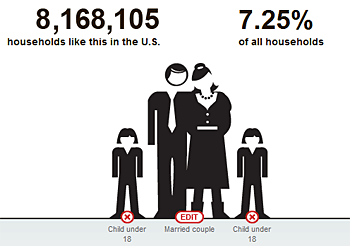 Have you ever wondered how many other families are just like yours?
This interactive tool from the New York Times analyzes census data since 1900, and shows the make-up of households in the U.S. For example, in 2009, about 8 million households in the U.S. consisted of a married couple with two children (about 7% of all households). That's almost the exact same percentage as in 1900.
As for other types of families, the percentage of households with single women and two children increased from about .4% to 1.6% in the last century, and recent data indicate that more than 62% of those households has an income below $30,000. Male unmarried partners with one child make up about 17,000 households in the U.S., and unmarried female partners with one child account for about 30,000 households.
If you're looking for more local data, kidsdata.org has data on family structure for cities, counties, and school districts across California, including single parent households, and children in the care of grandparents.
Tags: Data Projects, Data Sources
Posted by kidsdata.org
This entry was posted on Monday, June 20th, 2011 at 4:37 pm. You can follow any responses to this entry through the RSS 2.0 feed. You can leave a response, or trackback from your own site.