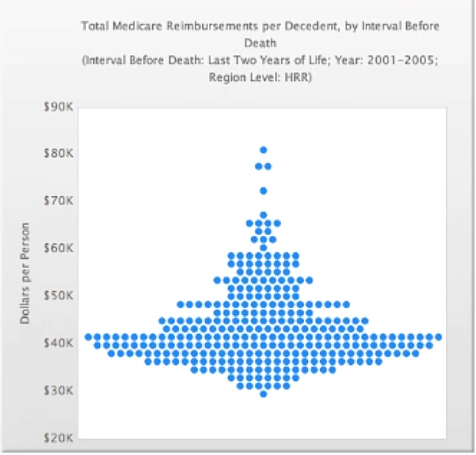 This "turnip" or "space invader" graph was one of the data visualizations highlighted in the session.
Recently, I had the pleasure of moderating a session about data at the Nonprofit Technology Conference in Washington, D.C. This annual conference explores trends in technology that affect nonprofit work, and this session focused on making your case with compelling facts.
Given that the audience for this conference is exclusively nonprofits, we knew that every attendee needs data — whether they want it or not. All kinds of nonprofit work — advocacy, grantseeking, and even reporting to a board of directors — require data. But, that doesn't have to mean run-of-the-mill excel graphs or, even worse, text-heavy pdfs. There are so many intriguing and, in some cases, inexpensive, ways to tell your story through data. Here are some that we featured in the session:
Two of our expert panelists came from Velir Studios, the web firm behind kidsdata.org and many other data sites, such as KidsCount, Kaiser State Health Facts, and the Dartmouth Atlas of Health Care. See the video of their presentation, which includes mapping examples and many other data visualizations.
Perhaps the biggest question of the day was: how can I do this for free/on-the-cheap? Several Google tools were mentioned as low-cost and easy-to-understand data displays. Google Chart Tools offers a wizard for creating several types of dynamic data displays, and Google's Public Data Explorer allows you to upload your own data, create your own visualizations, and then share what you've done with the masses.
Other free, inexpensive, or at least easy-to-use tools that were noted included Tableau Public (there's also a server edition for more sophisticated developers); Socrata, which can help you offer your data publicly; and mapping tools such as GeoCommons, and IndieMapper. Additional resources are included in this handout from the session.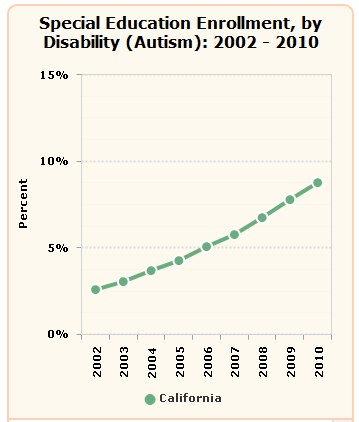 And, of course, no data session would be complete without some display examples from kidsdata.org. Andy Krackov, our Assistant Vice President of Programs & Partnerships, pointed out some tips for communicating data, noting that kidsdata.org makes it easy to monitor trends, like the graph on the left, and identify disparities.
In addition to these data visualization examples, the session included in-depth discussions about several related topics:
How data and personal stories can come together to make your case even more compelling. See a blog post on this topic by session panelist Kurt Voelker from Forum One Communications.
How to find data within your organiz

ation that others may be interested in (it can b

e anywhere — grant reports, web analytics, etc.) and, once you've found it, whet

her or not y

ou should release it. (You should err on the side of releasing it.)
If you have a mountain of data, how you can decipher what's important. (Focus on your mission.)
How to use data in your story, but still keep your story interesting
The discussion continues on Twitter via the hashtag #11ntcdata. Feel free to post questions there or here. And, if you know of other compelling data visualizations not listed here, or other free tools and resources, please let us know.
Tags: Data Challenges, Data Projects
Posted by Felicity Simmons
This entry was posted on Tuesday, March 29th, 2011 at 11:49 am. You can follow any responses to this entry through the RSS 2.0 feed. You can leave a response, or trackback from your own site.