---
---
---
---
---
---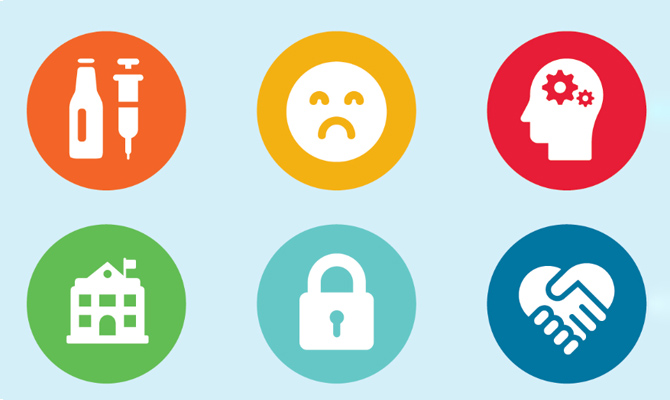 A comprehensive suite of data, Youth in Schools, includes new and updated indicators across more than a dozen topics from the viewpoint of California's students and school staff. These data are available for state, county, and school district levels, and student-reported data are easily customizable by grade level, gender, race/ethnicity, sexual orientation, parent education level and level of school connectedness.
Youth in Schools data come from the 2013-2015 California Healthy Kids Survey (CHKS) and California School Staff Survey (CSSS), the largest statewide surveys of school climate, risk behaviors, and protective factors in the nation. This data release is made possible by a partnership with WestEd who developed and administered these surveys for the California Department of Education.
Explore behaviors, identify disparities, and take action with hundreds of findings about Youth in Schools at your fingertips. A few findings for 2013-2015 include:
A complete list of Youth in Schools data is below. Learn more about the data, including helpful webinars, in our A Deeper Look section.
List of Youth in Schools Data
For indicators that are new to Kidsdata – look for the [NEW] notation.
Access to Services for Children with Special Needs
Bullying and Harassment at School
Children's Emotional Health
Demographics
Gang Involvement
Health Care
Nutrition
Physical Fitness
Pupil Support Services
School Attendance and Discipline
School Climate
School Safety
Youth Alcohol, Tobacco, and Other Drug Use
Youth Suicide and Self-Inflicted Injury
A Deeper Look
Issue Briefing: School Climate and California LGB Youth
Click the image to view the recording and slides:

Issue Brief: Lesbian, Gay and Bisexual Youth in California
Click image to view brief: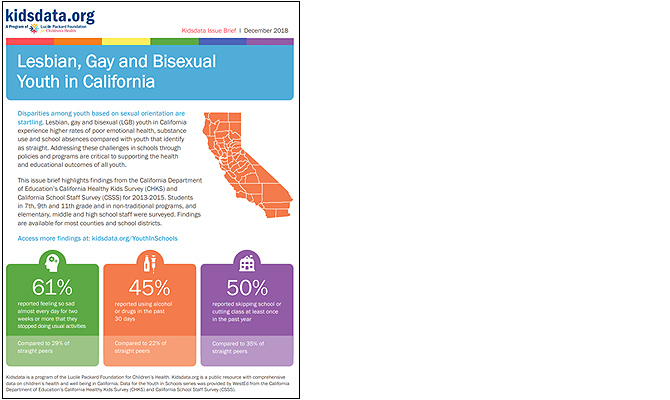 Data Briefing: New Data on Youth in Schools
Data Briefing Recording:

Posted by kidsdata.org
Post Comment
---
---
---
---