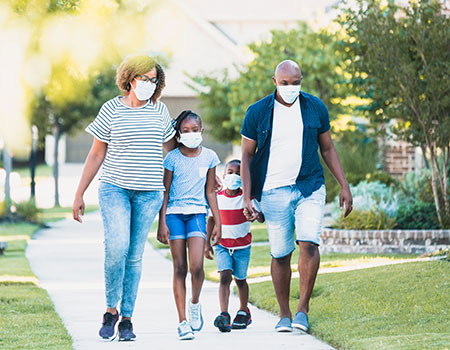 Today, KidsData released the latest data from the Family Experiences During the COVID-19 Pandemic questionnaire. These data are the second wave of findings from the multi-wave questionnaire.
As the COVID-19 pandemic passed the one-year mark, caregivers in households with children reflected on their experiences in:
The second wave of the questionnaire covers the period from March 22, 2021, to April 12, 2021. These data join the first wave of findings from Nov. 9, 2020, to Dec. 11, 2020.
Key findings from the latest data:
Education, Health Care, and Social Activities
About the same percentage of caregivers in both waves reported disruptions since the pandemic began, including closed child care centers (16% in wave 1, 17% in wave 2), canceled medical and dental appointments (29% in both waves), and canceled sports and after-school activities (36% in wave 1, 33% in wave 2).
Child and Caregiver Safety
Almost one-quarter (23%) of caregivers reported spanking, slapping, or hitting their child at least once in the last seven days. One-third (33%) of caregivers reported physical or emotional intimate partner violence during the pandemic.
Positive Childhood Experiences
A higher percentage of African American/Black caregivers reported that their child had a caring adult outside the home (94%) than White (82%) and Hispanic/Latino (79%) caregivers.
About the Data
In the Family Experiences During the COVID-19 Pandemic questionnaire, caregivers were asked to reflect on life disruptions and the emotional and behavioral consequences of the COVID-19 pandemic. The data cover California and seven regions within California. At the state level, findings are broken down by family income level, race/ethnicity, and the presence of a child with special health care needs in the household. We expect to share a third wave of findings in the coming months.
Learn more about the questionnaire and its collaborators who made it possible in About the Data Source.

Using the Data in Your Work
We hope these data are useful in your work with children and youth to address the effects of the COVID-19 pandemic. If you would like to share how you are using these data, please reach out to us at kidsdata@prb.org.
Additional Resource on the COVID-19 Pandemic
For a national perspective on the Family Experiences During the COVID-19 Pandemic questionnaire, see Family Snapshots: Life During the Pandemic from the American Academy of Pediatrics, in partnership with the Centers for Disease Control and Prevention (CDC), Prevent Child Abuse America, and Tufts Medical Center. They recently released two new snapshots on child discipline and intimate partner violence during the pandemic.
Children's Health Resources
"Creating Safe, Stable, Nurturing Relationships and Environments for Children" is a new resource from the California Essentials for Childhood Initiative that elevates prevention strategies and highlights findings from the CDC's Awareness, Commitment, and Norms Survey.
Physical Punishment: Attitudes, Behaviors, and Norms Associated with Its Use Across the US is a new report from Prevent Child Abuse America that shares findings from a survey given to U.S. adults about physical punishment and offers new insights for policy, intervention, and social norms change.
Community Safety Realized: Public Health Pathways to Preventing Violence is a new tool from Prevention Institute and Big Cities Health Coalition to advance community-driven, multi-sector approaches grounded in racial justice to prevent violence and establish pathways to safety.
Posted by kidsdata.org
This entry was posted on Thursday, July 1st, 2021 at 9:41 am. You can follow any responses to this entry through the RSS 2.0 feed. You can leave a response, or trackback from your own site.
Post a comment/question: