Timely Medical Exams for California Children in Foster Care:
1998 to 2019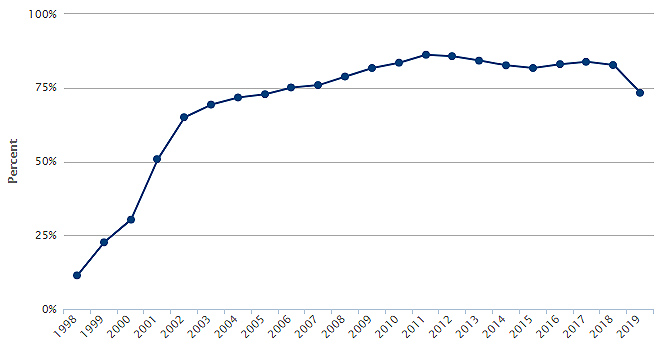 The foster care system is a critical safeguard for youth. It provides temporary, safe living arrangements and therapeutic services for youth who cannot remain safely at home. In California, 59,172 children ages 0-20 were in foster care on July 1, 2018.
While foster care aims to reunify children with their family, or unify them with another family as safely and quickly as possible, some children spend months or years in the system. Among children ages 0-17 who entered foster care in 2017, half spent more than 17 months in foster care. Thus, ensuring timely access to medical and dental care for these children is critical to promoting their long-term health and well-being. Over the past 20 years, the percentage of children in foster care receiving timely health exams has improved dramatically, though fewer than one in four still do not receive timely care. In 2019, 73% of children in foster care received timely medical exams, up from 11% in 1998, and 67% received timely dental exams, up from 8%.
Services to Address Abuse Data
These data are a part of Safeguards for Youth, a compilation of the latest data on protective factors and supportive services that promote California children's health and well-being. Learn more at kidsdata.org/Safeguards.
Foster Care
Domestic Violence Calls
COVID-19 Resources on Children
Alliance for Children's Rights compiled resources for foster care youth and families impacted by COVID-19. Resources are focused on California, particularly Los Angeles, and covers topics such as food assistance, health care, and housing.
The California Department of Public Health shares the latest about the state's actions related to COVID-19 and links to services and information for sectors such as education, health care, and housing.
Common Sense created Wide Open School to offer resources to support kids' educational, emotional, and physical development. It includes sections such as academic supports, emotional well-being practices, and children with special needs.
The Lucile Packard Foundation for Children's Health continually updates a curated list of COVID-19 Resources for Children with Special Health Care Needs.
Posted by kidsdata.org
This entry was posted on Tuesday, April 7th, 2020 at 9:07 am. You can follow any responses to this entry through the RSS 2.0 feed. You can leave a response, or trackback from your own site.