Usual Source of Health Care Among California Children: 2015-2016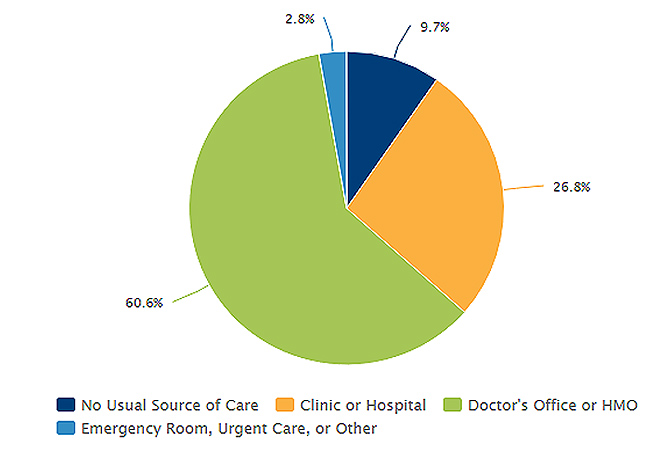 A coordinated approach to health care that is affordable, evidence-based, and family-centered safeguards youth most effectively. Children receive care from a complex system of clinics, hospitals, schools, and more. Important measures of this broad system of care include how often these health care services are accessed, why they are used, and to what extent they are adequate.
Over nine in ten California youth ages 0-17 experienced no delay in medical care in 2015-2016. During that time period, their usual source of care was visiting a doctor's office or HMO (61%), going to a clinic or hospital (27%), and using an emergency room or urgent care center (3%). Ten percent of children had no usual source of care. In California, the main reason children ages 0-17 were discharged from hospitals in 2017 was for mental diseases and disorders (14% of discharges). However, about four in ten youth who needed help for emotional or mental health problems received counseling in 2015-2016.
Schools can be a safe and accessible environment to address health issues among children. One in four elementary school teachers and one in five high school teachers strongly agreed that their school provided adequate health services in 2015-2017. Among school support personnel, there were 2,410 nurses, 1,041 psychologists, and 626 counselors for every student in California schools in 2019. School-based health centers provide medical care, dental care, mental or behavioral health care, and other services through on- and off-campus sites and mobile vans. In 2019, 268 school-based health centers served California children in 33 counties.
Support for Health Challenges Data
These data are a part of Safeguards for Youth, a compilation of the latest data on protective factors and supportive services that promote California children's health and well-being. Learn more at kidsdata.org/Safeguards.
Hospitalization
Physical and Mental Health Care
School Services
Related Resource
Common Sense shares resources for families during the coronavirus pandemic including helping children understand COVID-19 news coverage, helping parents support children through school closures and online learning, and recommending what to watch, read, and play.
Recently Released Data
We recently released data about pupil support personnel, disconnected youth, and juvenile arrests. See links to the latest here.
Posted by kidsdata.org
This entry was posted on Wednesday, March 25th, 2020 at 11:15 am. You can follow any responses to this entry through the RSS 2.0 feed. You can leave a response, or trackback from your own site.