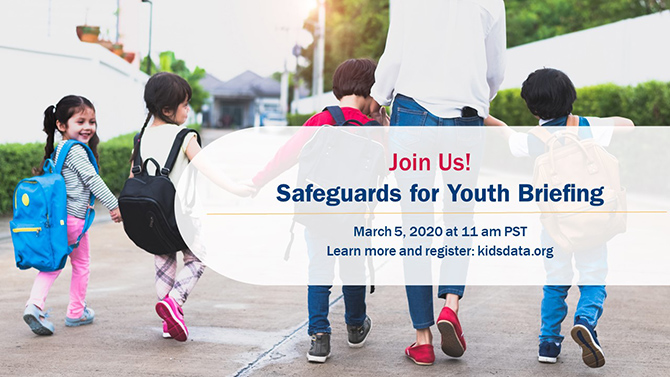 Webinar Details
Date: Thursday, March 5
Time: 11:00-11:30 AM PST
Kidsdata.org recently compiled data on Safeguards for Youth to highlight important protective factors and supportive services for California children. Learn about the Safeguards for Youth framework and where to easily access these data. Also, hear from a specialist at the Child Abuse Prevention Center about adopting a prevention mind-set and using trauma-informed practices to address adversity among children. Speakers will be available for questions immediately after the 30-minute briefing.

Speakers

Lori Turk-Bicakci, PhD
Director, Lucile Packard Foundation for Children's Health
Lori Turk-Bicakci is director of the Kidsdata program. Dr. Turk-Bicakci ensures that data and information on kidsdata.org are high-quality, relevant, and user-friendly, and she works with researchers and advocates across California to address key children's health issues. Before joining the Foundation, Dr. Turk-Bicakci was a senior researcher at American Institutes for Research. She has extensive experience with data collection, analysis, and reporting for education, social services, and other research projects that support children's long-term health and development. Prior to her work in research, Dr. Turk-Bicakci was a middle school social studies teacher.

Troy Nichols
Senior Training and Consulting Specialist, The Child Abuse Prevention Center
Troy Nichols provides consulting, coaching, and training for programs, organizations, networks, and systems that provide services to children youth, families and communities. He has expertise and provides consulting support and training in the areas of community impact, strengthening families, youth engagement, trauma informed approaches, cultural proficiency/equity & inclusion and supporting father involvement. Over his 28-year career he has worked in various areas of the field including, foster care, adoption independent living, mentoring and policy creation/implementation. Troy currently is the Senior Training and Consulting Specialist for Strategies 2.0 which is a contract held by the Child Abuse Prevention Center of Sacramento funded by the California Office of Child Abuse Prevention. He is also an adjunct professor at California State University, Sacramento in the Family and Consumer Sciences department.
Posted by kidsdata.org
This entry was posted on Thursday, February 13th, 2020 at 10:23 am. You can follow any responses to this entry through the RSS 2.0 feed. You can leave a response, or trackback from your own site.