California Infants Whose Mothers Received Prenatal Care in the First Trimester: 2016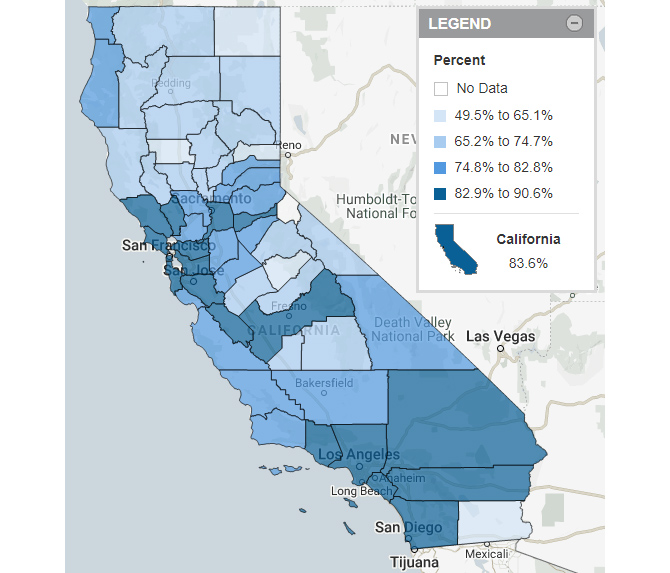 Preventive health care is important to safeguarding our youth, from routine medical and dental visits to receiving care in a medical home. For expectant mothers, prenatal care is one of the first steps to protecting her child's long-term health and well-being. During early prenatal care visits, health professionals can identify and resolve medical problems, refer women to services for non-medical issues, and provide general health education. Mothers who receive prenatal care in the first trimester increase their baby's chances of a healthy birth and infancy.
In California, 84% of infants were born in 2016 to mothers who had received prenatal care during the first trimester. However, in some parts of California, far smaller proportions of mothers are receiving prenatal care. Just under half of babies in Modoc County and under two-thirds of babies in seven additional counties were born to mothers who received early prenatal care.
First trimester prenatal care differs by race/ethnicity. In 2016, 70% of babies born to American Indian/Alaskan Native mothers and 79% of babies born to African American/Black mothers received early prenatal care. These rates are lower than for babies born to mothers who were Hispanic/Latina, Asian/Pacific Islander or white.
Preventive Health Care Data
These data are a part of Safeguards for Youth, a compilation of the latest data on protective factors and supportive services that promote California children's health and well-being. Learn more at kidsdata.org/Safeguards.
Insurance
Medical Home
Perinatal Infant Care
Wellness Practices
Related Resource
The Strong Start Index helps policymakers and service providers understand the conditions into which babies are born all across California. It is comprised of twelve indicators including timely prenatal care and healthy weight at birth. The latest iteration includes 2017 data as well as breakdowns by race/ethnicity and city and federal legislative districts. In addition, users can gain an improved understanding of differences based on significance testing. This resource is provided by the Children's Data Network (CDN) and the First 5 Association of California.
Recently Released Data
We recently released data about Child Care and Child Abuse. See links to the latest here.
Posted by kidsdata.org
This entry was posted on Monday, February 10th, 2020 at 4:29 pm. You can follow any responses to this entry through the RSS 2.0 feed. You can leave a response, or trackback from your own site.