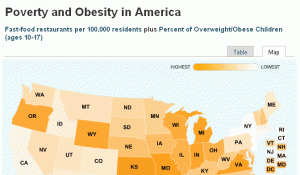 From datamasher.org, this is an example of a data mash-up of fast food restaurants and child obesity rates.
Kidsdata.org has a wealth of data related specifically to children in California, but what if you want to compare California against other states and different indicators? You might want to try Datamasher.org, a website that allows users to get creative by comparing indicators from different states against each other. Users can view others' mash-ups, then vote on them to help determine how useful they are.
Take, for instance, the mash-up titled Money Spent per Student and SAT Scores. This mash-up combines reading and mathematics SAT scores with expenditure per pupil at public schools. California students had an average combined SAT score of 1,015, with the state spending $7,905 per student, which puts California about the middle (29th) on the list for most SAT points per dollar spent. The worst state was New Jersey, where the  average SAT was 1,005, but state spending per student was $14,117 – nearly double the expense of California. Utah ranked the best, with an average score of 1,114 and $5,216 spent per student.
When it comes to Most Reproductive States, California ranks 9th with 562,440 births divided by the state's 2008 population of nearly 37 million. The West and Southwest has some of the most reproductive states, with Utah again ranking 1st, while the Northeast has some of the least reproductive states, with Maine ranking 50th.
Have you created a mashup on kids' health? Add it here!
Tags: Data Projects
Posted by kidsdata.org
This entry was posted on Wednesday, April 14th, 2010 at 1:11 pm. You can follow any responses to this entry through the RSS 2.0 feed. You can leave a response, or trackback from your own site.