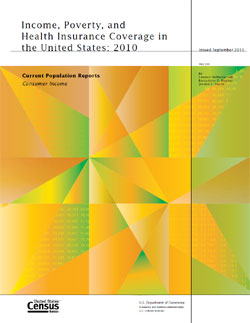 A new report released today by the Census Bureau notes concerning increases in child poverty from 2009 to 2010 across the country.
According to the report, Income, Coverage and Health Insurance in the United States: 2010, 22% of U.S. children lived in poverty in 2010 — that's up from 20.7% in '09, which translates to nearly 1 million more children in poverty.  Also, in 2010, 9.8% of U.S. children were uninsured, but among children in poverty, the percentage was higher, at 15.4%.
The report is particularly timely, given that tomorrow we'll be participating in a New America Media briefing about childhood poverty. The event will illustrate the challenges faced by low-income youth and families in the Bay Area from several different perspectives.
Here are a few other highlights of the census report:
Annual median income levels in

U.S. family

households declined from $62,276 in 2009 to $61,544 in 2010 (Table 1, pg. 6)
Households in the West experienced a greater decline in median household income than any other region across the country — 2.9% (Table 1, pg. 6)
Visit kidsdata.org for additional data on poverty, health care, and family income for your region.
Tags: Child Health Issues, Data Sources
Posted by kidsdata.org
This entry was posted on Tuesday, September 13th, 2011 at 4:07 pm. You can follow any responses to this entry through the RSS 2.0 feed. You can leave a response, or trackback from your own site.