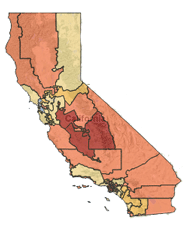 This week, we added a range of demographic and economic data for every Congressional, Assembly, and State Senate district in California — nearly a dozen measures of child health — to kidsdata.org. (See the data we added)
Our colleagues across the state tell us that local data help them the most — and the more local the better. On kidsdata.org, we already offer data for many topics at the city and school district level. The addition of data by legislative district means we can show data for many more regions across California — over 1,800 in all. In addition, we've heard from elected officials and their staff that hard data for their district would help them do their jobs better. By providing these data, we hope to help fill that need.
Currently, there are more than 400 measures of child health available on kidsdata.org. So, why are so few available by legislative district? The short answer: Only some data are collected that way. These legislative data, in fact, are drawn from recently posted data from the Census Bureau's American Community Survey; these data weren't even available a year ago. We hope this addition to kidsdata.org helps policymakers improve the lives of children in their districts.
Another site that offers data by legislative district, for both children and adults, is Healthy City. If you know of other resources,  or other data available by legislative district, please note them below.
Tags: Data Challenges, New Data
Posted by kidsdata.org
This entry was posted on Thursday, September 8th, 2011 at 1:21 pm. You can follow any responses to this entry through the RSS 2.0 feed. You can leave a response, or trackback from your own site.