Licensed Family Child Care Homes Offering Evening, Weekend or Overnight Care in California, 2019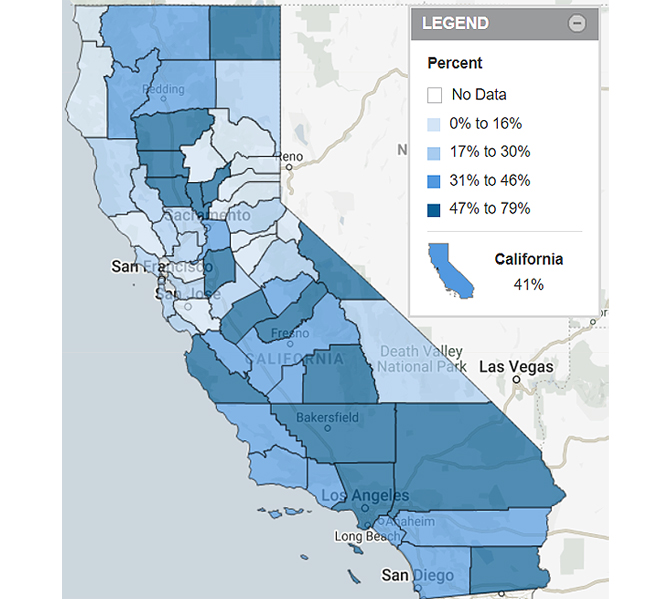 Licensed child care continues to be unavailable and unaffordable for many families in California. While nearly 37,000 child care centers and family child care homes were licensed in California offering nearly one million spaces in 2019, caring for children outside the home remained a challenge. For caregivers who work non-traditional hours, the challenge may be even greater.
Among licensed facilities in 2019,
2% of child care centers and 41% of family home care offered evening, weekend, and/or overnight care
82% of each type of facility offered part-time schedules
Child care centers cost over $17,000 yearly for full-time infant care and over $12,000 for preschooler care while family home care facilities cost around $11,000 for either age group (in 2018)
Since the pandemic began, child care has been impacted in ways we are only beginning to understand. Based on a study conducted by the California Child Care Resource and Referral Network, 43% of respondents reported in June and July 2020 that their child care was different than what they had been planning to use before the pandemic. Cultivating and expanding a mixed delivery care system that serves all families has only increased in importance through this period.
Webinar
Creating Compelling Messaging with ACEs Data
Date: January 20, 2021, 10:30 AM – 12:00 PM
Host: Essentials for Childhood (EfC) Initiative
Speakers from Berkeley Media Studies Group, ACEs Connection, and kidsdata.org will offer guidance on effectively communicating about adverse childhood experiences. Register here.
Children's Health Resources
The CDC recently released a report that raises concern for child abuse victims. The report found that during the pandemic the total number of emergency department visits related to child abuse and neglect in the U.S. decreased, but the percentage of such visits resulting in hospitalization increased, compared with 2019.
The Lucile Packard Foundation for Children's Health continually updates a curated list of COVID-19 Resources for Children with Special Health Care Needs.
Recently Released Data
We recently released data about Early Care and Education. See links to the latest here.
Posted by kidsdata.org
This entry was posted on Tuesday, January 12th, 2021 at 11:28 am. You can follow any responses to this entry through the RSS 2.0 feed. You can leave a response, or trackback from your own site.