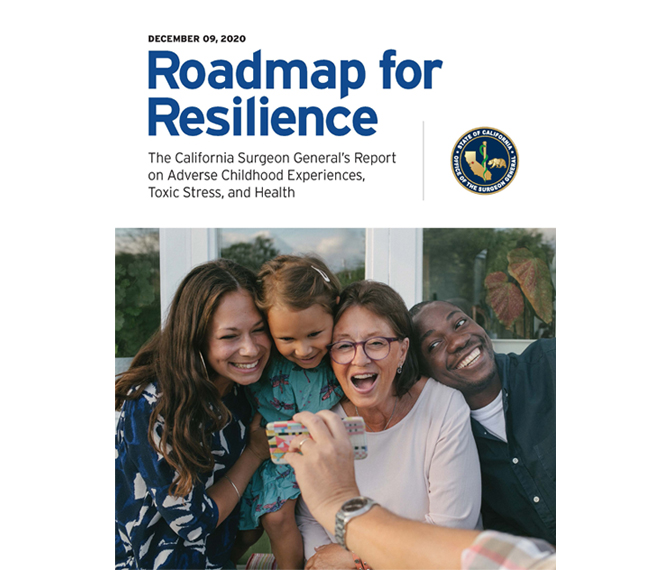 A new report from the California Office of Surgeon General provides vision and guidance on reducing the impact of adverse childhood experiences (ACEs). Roadmap for Resilience: The California Surgeon General's Report on Adverse Childhood Experiences, Toxic Stress, and Health covers four areas:
The science, scope, and impacts of ACEs and toxic stress
Primary, secondary, and tertiary strategies to prevent harmful exposures, facilitate early detection and intervention, and lessen the severity and progression of resulting diseases or social outcomes
State tools and strategies to address ACEs and toxic stress including case studies and systems-level implementation considerations
California's next steps to advance evidence-based interventions and cross-sector approaches to prevent and mitigate the impacts of ACEs
The report focuses on cross-sector strategies in health care, public health, social services, early childhood, education, and justice. In addition to providing a framework for a shared understanding, language, and vision to align efforts, it also highlights current practices that address ACEs as a public health crisis.
See kidsdata.org's Childhood Adversity and Resilience topic for data describing the number and types of adverse experiences among children in California.
Webinar
Creating Compelling Messaging with ACEs Data
Date: January 20, 2021, 10:30 AM – 12:00 PM
Host: Essentials for Childhood (EfC) Initiative
Speakers from Berkeley Media Studies Group, ACEs Connection, and kidsdata.org will address the practical application of the report: "Adverse Childhood Experiences Data Report: Behavioral Risk Factor Surveillance System (BRFSS), 2011-2017: An Overview of Adverse Childhood Experiences in California." Register here.
Recently Released Data
We recently released data about homelessness. Almost 12,000 California youth ages 0 to 24 were homeless on one night in January 2019. See links to the latest here.
Posted by kidsdata.org
This entry was posted on Thursday, December 17th, 2020 at 12:03 pm. You can follow any responses to this entry through the RSS 2.0 feed. You can leave a response, or trackback from your own site.