Suicidal Ideation by High, Medium, and Low Levels of School Connectedness Among California Students, 2017-2019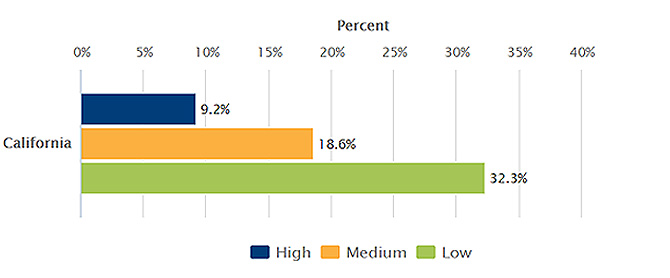 Youth who feel more connected to school are more likely to have a stronger sense of well-being. Data on suicidal ideation among students before the COVID-19 pandemic suggest a relationship to school connectedness. Among California students in grades 9, 11, and non-traditional programs in 2017-2019, nearly one in ten who felt highly connected to school seriously considered attempting suicide. However, almost three in ten students who felt a low level of school connection considered attempting suicide.
Though research on suicidal ideation since the pandemic began is limited, past research linked social isolation with poor mental health among children and youth. During a time when physical interaction with educators and peers is reduced, child-serving programs become increasingly important as a means to drive social interaction and mental health well-being.
Two bills in the California legislature that, in part, address mental health among children and youth were signed into law in September. Suicide Prevention (AB 2112) establishes the Office of Suicide Prevention within the California Department of Public Health. The office will provide information and technical assistance to statewide and regional partners regarding best practices on suicide prevention policies and programs. The Peer Support Specialist Certification Program Act (SB 803) establishes statewide requirements for counties to use in developing certification programs for peer support specialists. Peer support specialists must self-identify as having lived experience with the process of recovery from a mental illness or substance use disorder. They can play a valuable role in promoting connections and reducing suicide and suicidal ideation.
Children's Health Resources
Promoting Youth Engagement & Connectedness in a COVID-19 World, an online event facilitated by the Prevention Technology Transfer Center Network, shares participant suggestions for successful strategies to virtually engage youth. Find summary notes among the supplementary materials.
Suicide Prevention in Schools: Strategies for COVID-19 offers a perspective on addressing students' mental health needs in schools from The Suicide Prevention Resource Center.
The Lucile Packard Foundation for Children's Health continually updates a curated list of COVID-19 Resources for Children with Special Health Care Needs.
Posted by kidsdata.org
This entry was posted on Tuesday, November 17th, 2020 at 5:07 pm. You can follow any responses to this entry through the RSS 2.0 feed. You can leave a response, or trackback from your own site.