Prevalence of Adverse Childhood Experiences Among Adults in California, 2011-2017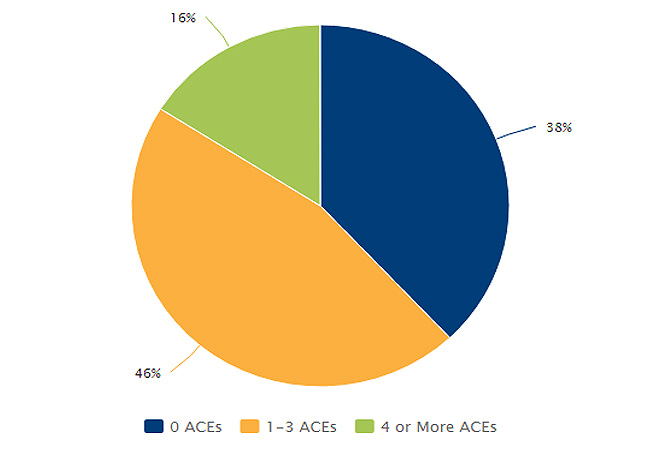 In California, 16% of adults reported between 2011 and 2017 that they had experienced four or more adverse experiences before age 18. These findings are based on data from the Behavioral Risk Factor Surveillance System (BRFSS), made available in partnership with the Essentials for Childhood Initiative (EfC) and the UC Davis Violence Prevention Research Program.
The EfC explores survey findings from BRFSS in their new report, Adverse Childhood Experiences Data Report: Behavioral Risk Factor Surveillance System, 2011 to 2017. The report provides a broad overview of the prevalence and burden of adverse childhood experiences (ACEs). One important set of findings compares Californians who had ACEs with those who did not. Compared to those with no ACEs, and after adjusting for race, sex, age, income, education, and employment status, those who had four or more ACEs before age 18 were:
3.5 times more likely to report frequent mental distress
2 times more likely to report fair or poor health
3 times more likely to report 14 or more unhealthy days in the past month
The EfC shares interventions that can reduce ACEs. Programs and policies like the California Earned Income Tax Credit and Paid Family Leave create changes in social norms and focus on strengthening economic support for families, both of which promote life-long health and well-being.
Kidsdata.org offers a comprehensive framework for understanding and addressing child adversity across the lifespan. You can access the latest findings on adverse childhood experiences from three independent data sources: BRFSS, the National Survey of Children's Health, and the Maternal and Infant Health Assessment. Learn more about these data sources in "Measures of Childhood Adversity and Resilience on Kidsdata.org" under the data figures.
Children's Health Resources
A study using data from BRFSS, Adult Health Burden and Costs in California During 2013 Associated with Prior Adverse Childhood Experiences, found that having at least one ACE was associated with $10.5 billion in excess personal health care spending.
A new resource, Coping with Stress During the COVID-19 Pandemic, is for families experiencing severe economic consequences resulting from COVID-19 and offers information on ways Californians can take care of themselves and their families during the pandemic. A downloadable PDF is available in English and Spanish.
The Lucile Packard Foundation for Children's Health continually updates a curated list of COVID-19 Resources for Children with Special Health Care Needs.
Recently Released Data
Posted by kidsdata.org
This entry was posted on Wednesday, November 11th, 2020 at 3:50 pm. You can follow any responses to this entry through the RSS 2.0 feed. You can leave a response, or trackback from your own site.