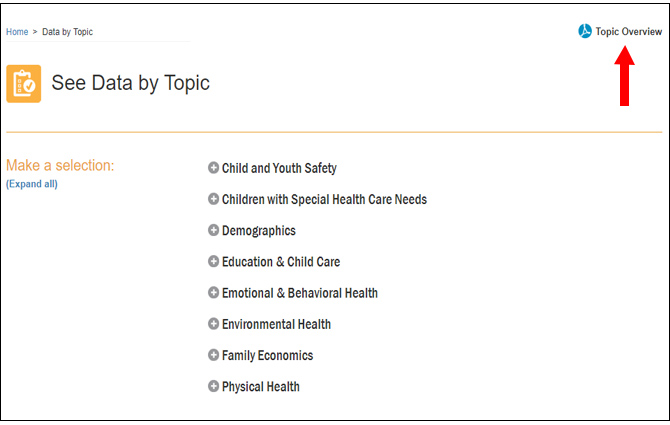 With 57 topics and 600 indicators, exploring the data on kidsdata.org may seem daunting. We offer two tips on understanding the website's contents and streamlining how you are informed about the latest data that are important to you.
Topic Overview: A PDF resource summarizing the categories, topics, breakdowns, and timeframes available on the site.
Data Alerts: A method to receive email notifications when data that match your specific interests are released on the site. You can customize alerts for specific topics, geographic areas, and demographic groups that best support your work.
We're here to help! Send your questions or suggestions about kidsdata.org to kidsdata@lpfch.org.
Resources on Children's Health Equity
Maternal and Child Health Inequities Emerge Even Before Birth, a report from Zero to Three and Child Trends, finds serious racial and ethnic disparities in infant and maternal health care and health outcomes across the country.
Confronting Structural Racism in Research and Policy Analysis, a report by the Urban Institute, shares tools, strategies, and challenges for implementing institutional change based on insights from policy research, academia, and philanthropy.
Diversitydatakids.org provides data, a Child Opportunity Index, and a Policy Equity Assessment for a diverse and equitable future.
COVID-19 Resources on Children
The CDC offers guidelines on keeping children healthy during the COVID-19 outbreak such as helping children stay socially connected and reinforcing preventive actions.
ACEs Connection collates resources about parenting with ACEs in a pandemic, including four topic-specific lists related to COVID-19 and ACEs Science.
The Lucile Packard Foundation for Children's Health continually updates a curated list of COVID-19 Resources for Children with Special Health Care Needs.
Posted by kidsdata.org
This entry was posted on Tuesday, July 14th, 2020 at 11:40 am. You can follow any responses to this entry through the RSS 2.0 feed. You can leave a response, or trackback from your own site.