Children Living in Food Insecure Households: 2011-2017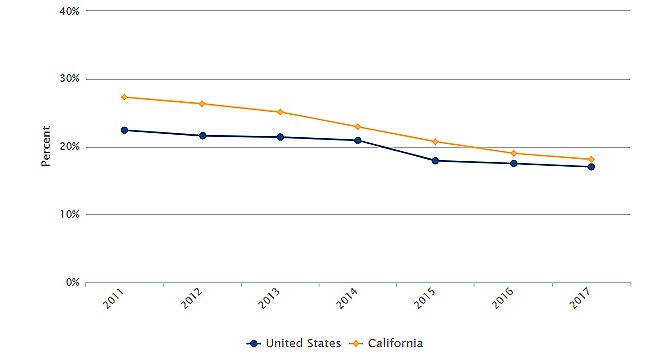 Food insecurity – a lack of consistent, dependable access to enough food for healthy living – is a major public health problem in California and across the country. Although the percentage of food-insecure children has been on the decline since 2011, California rates consistently exceed those for the U.S. overall. Almost one in five California children live in households with limited or uncertain access to adequate food. Children that are food-insecure are more likely to experience health problems, including developmental, cognitive, behavioral, and mental health issues.
Data related to food assistance programs show that some race/ethnicity groups are disproportionately affected by food insecurity. The CalFresh (Food Stamps) supplemental nutrition program served almost 4 million children and adults in 1.9 million households in July 2018. From 2008 through 2018, non-white households accounted for almost three-quarters of participants statewide.
Inconsistent access to food is deeply rooted in poverty. Strengthening safety net programs so that low-income children, expectant mothers, and families receive adequate nutrition helps ensure the health and well-being of all Californians.
Additional Resources
Public school meals are a critical part of the school day, supporting children's academic achievement and health. Visit the Food Research & Action Center website to learn how federal programs like the School Breakfast Program, National School Lunch Program, and Community Eligibility Program help address food security.
New Initiative to Address Toxic Stress from Childhood Trauma
The California Surgeon General and Department of Health Care Services (DHCS) launched the ACEs Aware initiative, a first-of-its-kind statewide effort for health care providers to screen patients for Adverse Childhood Experiences (ACEs). Through this initiative, Medi-Cal providers can receive training, clinical protocols, additional resources, and payment for screening children and adults for ACEs. There is also a two-hour online curriculum for a wide range of health care professionals that provides continuing medical education (CME) and maintenance of certification (MOC) credits.
Recently Released Data
We recently released data about Food Security and Nutrition. See links to the latest here.
Posted by kidsdata.org
This entry was posted on Tuesday, December 10th, 2019 at 11:56 am. You can follow any responses to this entry through the RSS 2.0 feed. You can leave a response, or trackback from your own site.