Number of California Kindergartners with Permanent Medical and Personal Belief Exemptions: 2011-2019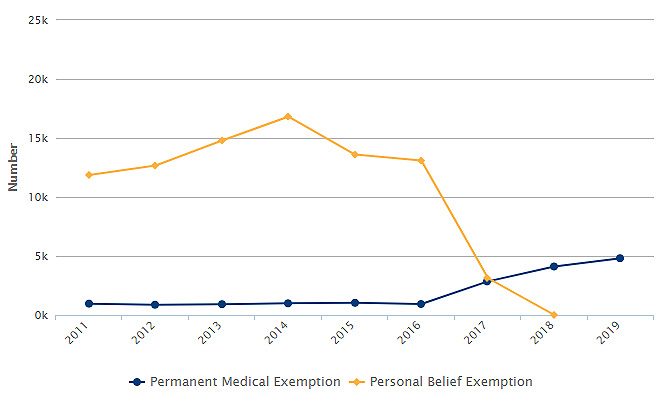 Two notable immunization trends emerged with the passage of California's vaccine law which took effect in July 2016. Under SB 277 parents can no longer cite personal beliefs as a reason to not vaccinate their children. Since then, immunization rates increased overall and reached a key threshold statewide. Additionally, the number of exemptions from immunizations for personal beliefs dropped while the number of exemptions for medical reasons increased.
Trend 1: The state has achieved herd immunity for the most contagious diseases, including measles. In 2019, 95% of California kindergartners were immunized against vaccine-preventable diseases. However, 27 counties have not reached the 95% threshold, among counties with data.
Trend 2: The number of exemptions for personal beliefs dropped precipitously from a high in 2014 of 16,817, in accordance with the law. In contrast, exemptions for permanent medical reasons increased from 991 in 2014 to 4,812 in 2019.
Protecting individual children and our community of children from vaccine-preventable diseases leads to healthier lives and reduced health care costs. The 2016 policy change directly and immediately impacted immunization rates statewide, but local communities also require the same high level of immunization rates to maximize protection. Continued policy efforts can bring the same level of protection to all children.
In the Legislature
On Monday, the governor signed Senate Bill 276, changing how medical exemptions are processed. It establishes an electronic, standardized, statewide medical exemption system by January 2021 and requires physicians to use this system when granting a medical exemption. Staff at the State Department of Public Health will review exemptions in the system to identify physicians with five or more submissions and schools with immunization rates under 95%.
Data in Action
Data can be more than just numbers. Along with Kidsdata News, we also share information on critical topics, from recent news to data findings on our Twitter. Follow us @Kidsdata. We're here to answer any questions or partner to highlight key children's health issues. Reach out to us: kidsdata@lpfch.org.
Recently Released Data
We recently released data about Immunizations and Prenatal Care. See links to the latest here.
Posted by kidsdata.org
This entry was posted on Wednesday, September 11th, 2019 at 8:23 am. You can follow any responses to this entry through the RSS 2.0 feed. You can leave a response, or trackback from your own site.