5th Grade Students Who Are Overweight or Obese, 2018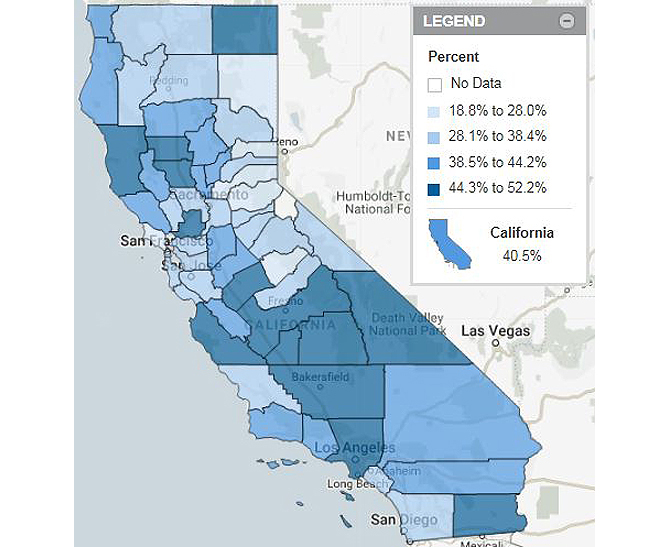 The latest data from 2018 show that 41% of 5th graders in California were overweight or obese. Particularly troubling are the large race/ethnicity disparities, including 54% of Native Hawaiian/Pacific Islander and 49% of Hispanic/Latino 5th graders that were overweight or obese, as compared to fewer than 30% of their Asian American and white peers.
Consistent with these findings, the percentage of children who met the California Department of Education fitness standards also showed disparity by race/ethnicity. Fewer than 20% of Native Hawaiian/Pacific Islander and Hispanic/Latino 5th graders met all fitness standards compared with 35% of Asian American and white students.
Reducing childhood obesity rates requires more than personal effort. Public policies are necessary to ensure equitable access to opportunities for physical activity in and out of school, and affordable healthful foods, among other factors. As the state continues to advance anti-obesity policies, we must ensure that these efforts effectively address racial/ethnic and other inequities, engage local communities in solutions, and utilize strategies that are culturally and linguistically appropriate.
Additional Resources
Learn more about California's approach to addressing childhood obesity.
Foundation News: Dr. Edward Schor to Retire
Edward Schor, MD, who for the past eight years has led work at the Lucile Packard Foundation for Children's Health to promote children's health in California and improve the system of care for children with special health care needs, will retire July 2. Read Dr. Schor's reflections on the Foundation's progress towards elevating the priority of children's health and how to continue creating a system that works for children and families.
Recently Released Data
We recently released data about weight and physical fitness. See links to the latest here.
Posted by kidsdata.org
This entry was posted on Monday, July 1st, 2019 at 10:45 am. You can follow any responses to this entry through the RSS 2.0 feed. You can leave a response, or trackback from your own site.