Percentage of Children with Working Parents for Whom Licensed Child Care Slots Are Unavailable: 2017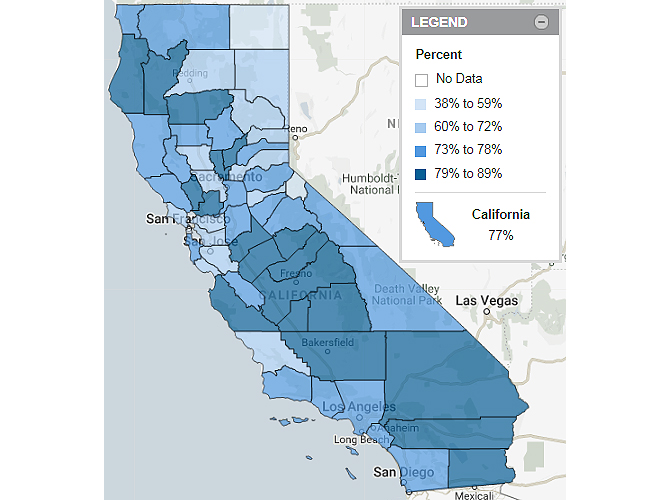 The amount of licensed child care in California is inadequate to meet the needs of working families. Over three-quarters of children ages 0-12 did not have licensed child care slots available to them in 2017. Child care access varied across counties and were highest in Kings County where slots were unavailable for 89% of children. In nearly all counties, rates have remained the same or worsened since 2010.
Center-based infant care is especially problematic in California which was ranked the least affordable state for infant care in 2017. That cost in 2016 was $16,452 a year which was more than fair market rent for a two-bedroom unit in the majority of counties in that year. In 24 counties, residents paid over $1,000 more per year for center-based infant child care than for a two-bedroom unit.
The challenge to find and pay for child care is a major source of stress for many families raising children in California. Policies such as extending family leave after birth can make a difference. Extended family leave would delay entry into child care thus reducing pressure on the child care system and decreasing cost to families while offering a stronger start for infants.
Child care data are available on kidsdata.org through our partnership with the California Child Care Resource and Referral Network. The Network promotes affordable, quality child care through research, education, and advocacy.
Data in Action
The California Campaign to Counter Childhood Adversity (4CA) advocates for policies that address childhood adversity and promote protective factors. On May 1, participants in the 4CA Policymaker Education Day, including Kidsdata, will visit legislative offices in Sacramento to share how childhood adversity impacts communities. Customized legislative district profiles about childhood adversity are now available for download.
Recently Released Data
We recently released data about hospitalizations, housing affordability, and unemployment. See links to the latest here.
Posted by kidsdata.org
This entry was posted on Monday, April 29th, 2019 at 4:18 pm. You can follow any responses to this entry through the RSS 2.0 feed. You can leave a response, or trackback from your own site.