Child Population, Ages 0 to 2: 2018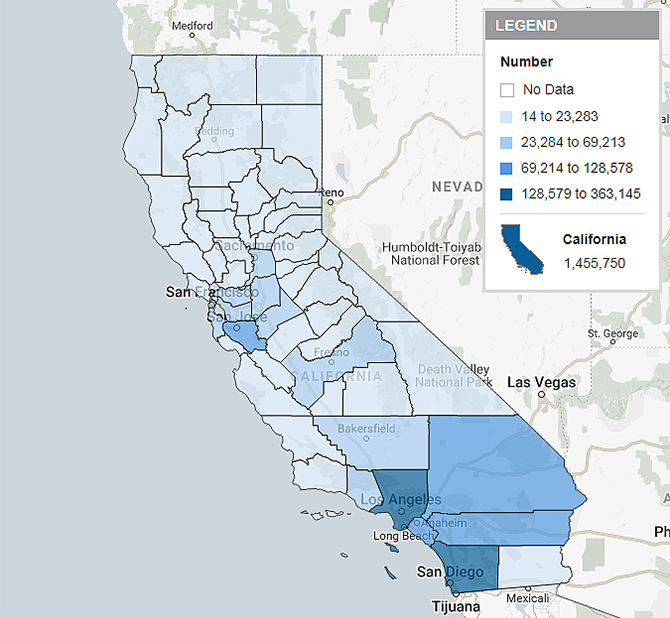 Kidsdata has expanded its demographic topic content with 22 new indicators and 14 updated indicators. New indicators include sexual orientation, transgender youth, and projected population to 2060. Updated indicators include births, child populations, and school enrollments. Use demographic data to understand the size and composition of the populations in your area and plan appropriate programs to meet your changing community needs.
California had nearly 1.5 million babies, ages 0-2, in 2018 – that is 1.5 million lives where we have an opportunity to ensure safe, nurturing, and healthful environments and supportive infrastructure from the start. Each child is more important to California than ever before. How many babies does your county have?
Data in Action
The Office of Child Abuse Prevention in the CA Department of Social Services are using data to inform prevention strategies against child abuse. They debuted state and county-level dashboards, drawing from kidsdata.org and other sources.
Now Available: LGB Webinar Recording and Slides
Across many indicators of health and well being, lesbian, gay and bisexual (LGB) youth reported troubling behaviors and consequences at about twice the rate of straight youth. Listen to our recent webinar on this topic and see the latest data on transgender youth.
Posted by kidsdata.org
This entry was posted on Tuesday, February 19th, 2019 at 9:38 am. You can follow any responses to this entry through the RSS 2.0 feed. You can leave a response, or trackback from your own site.