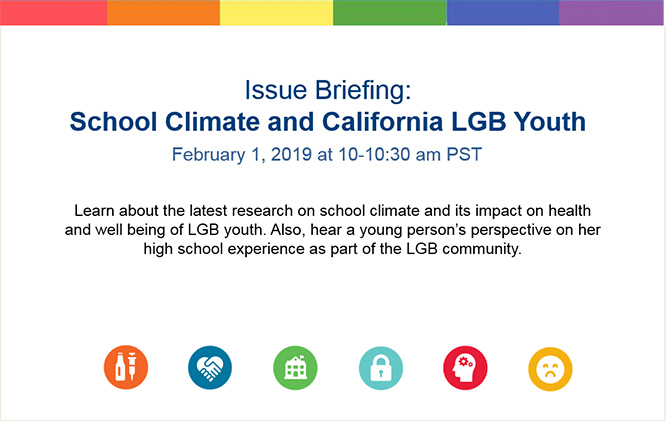 Webinar
Date: Friday, February 1
Time: 10:00-10:30 AM PST
A new issue brief from Kidsdata reports startling disparities among California youth based on sexual orientation. Across many indicators of health and well being, lesbian, gay and bisexual youth reported troubling behaviors and consequences at about twice the rate of straight youth. Learn about the latest research on school climate and its impact on health and well being of LGB youth. Also, hear a young person's perspective on her high school experience as part of the LGB community. Audience Q&A is highly encouraged. Speakers will be available for questions immediately after the 30-minute briefing.
Attendees are encouraged to review Kidsdata Issue Brief: Lesbian, Gay and Bisexual Youth in California prior to the briefing.

Speakers
Jenny Betz
School Climate Specialist, WestEd

Jenny Betz is a School Climate Specialist in WestEd's Health & Justice Program, where she engages with schools and districts to improve school climate and wellness. With more than 18 years of experience in the nonprofit sector — local, regional, national, and international — Jenny has a passion for social justice and building the capacity of education stakeholders to ensure safe, affirming, and inclusive learning environments for all. Prior to joining WestEd, Jenny was the Director of Education & Youth Programs at GLSEN, leading national campaigns, programs, and resource development addressing LGBTQ issues in K-12 schools. A native of the Bay Area, Jenny earned a BA in English at St. Mary's College and an MA in gender/cultural studies at Simmons College, and serves as a member of the International Bullying Prevention Association (IBPA) Board of Directors.
Hannah Herrick
Student, University of California, Berkeley

Hannah Herrick is a sophomore at UC Berkeley with an intended major in Social Welfare and minor in LGBTQ studies. She identifies as bi/pansexual. Hannah is a youth services volunteer with the Pacific Center for Human Growth, the oldest LGBTQ center in the Bay Area. She leads discussions and provides peer support for LGBTQ youth at local middle schools. Hannah is also a member of Bear Closet, a community-based organization at UC Berkeley focused on making the LGBTQ community more accessible to questioning and closeted youth.
Youth in Schools Data
Youth in Schools Data Available on Kidsdata
Posted by kidsdata.org
This entry was posted on Tuesday, January 15th, 2019 at 9:54 am. You can follow any responses to this entry through the RSS 2.0 feed. You can leave a response, or trackback from your own site.