Students with Low Levels of School Connectedness, by Race/Ethnicity, 2013-2015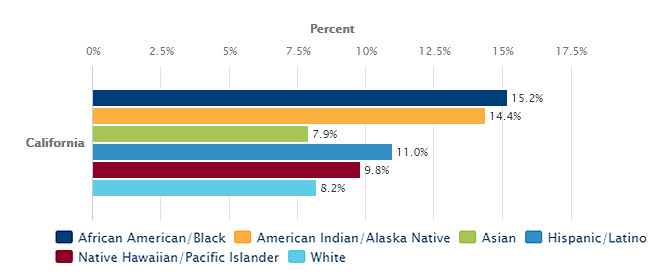 A positive school climate is an important factor that defines effective schools. When school climate is positive, students are more likely to succeed academically and engage in healthy behaviors. A key measure of school climate is level of school connectedness, which takes into account if students feel happy, safe, close to people, and a part of school, and that teachers treat them fairly.
Improving school climate is a promising strategy to narrow achievement gaps among groups of students. However, student groups experience school climate differently. For example, in California, higher percentages of African American/Black and American Indian/Alaskan Native students report low levels of school connectedness in 2013-2015 (15% and 14%, respectively) compared with Asian and White students (both 8%). In addition to race/ethnicity, gaps also exist by parent education level and sexual orientation. By creating an inclusive, safe, and academically challenging school climate and utilizing targeted interventions for some groups, we can expect improved academic and health outcomes for all students.
California law now requires school districts to address school climate as part of the Local Control and Accountability Plans. Learn more about policy and practice recommendations to nurture a strong school climate.
This data release is a part of Kidsdata's Youth in Schools series. In partnership with WestEd, we are featuring data from the California Department of Education's California Healthy Kids Survey.
Data in Action
See Kidsdata at the Positive Behavioral Interventions and Supports (PBIS) conference in Sacramento on September 25th where we will discuss identifying inequity to target interventions.
Recently Released Data
We are continuously updating our data. Click the links below to see the latest:
Posted by kidsdata.org
This entry was posted on Tuesday, September 11th, 2018 at 4:54 pm. You can follow any responses to this entry through the RSS 2.0 feed. You can leave a response, or trackback from your own site.