Poverty in California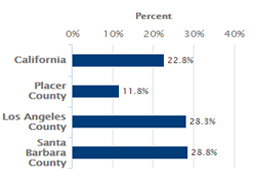 According to the CPM, 19.5% of Californians were poor as of 2015—that means 7.5 million people living below a basic needs threshold (on average less than $30,000 in total resources for a family of four). The poverty rate is higher for children at 22.8%, or over 2 million children in 2013-2015. Among counties with data, CPM poverty rates ranged from 11.8% in Placer County to over 28% in Los Angeles and Santa Barbara counties.
Poverty Increase without Safety Net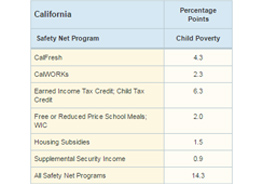 Without resources from the social safety net, we estimate that an additional 1.3 million children, or 14.3%, would live in poverty based on data from 2013-2015. This translates into over one-third of children in poverty (37.1%). In other words, social safety net programs are doing critical work to mitigate poverty in the state.
Deep Poverty
For children living in deep poverty (with family resources less than half of the poverty threshold), social safety net programs are even more consequential. We estimate 5.1% of children lived in deep poverty in 2013-2015, but that nearly three and one-half times that share would live in deep poverty absent resources from the social safety net (17.4%). Nonetheless, the vast majority of children in poverty live in families where at least one adult works (82.3%), and this share is high even for children in deep poverty (68.2%).
Addressing Poverty
Taken together, these data suggest that solutions to child poverty in the state must take account the ways in which family employment and social safety net programs dovetail and the ways that they could be jointly improved. These data also drive home the need to address poverty as we take action for the well-being of the state's children.
Caroline Danielson is a senior fellow at the Public Policy Institute of California. Her research focuses on multiple dimensions of the social safety net, including its role in mitigating poverty, program access and enrollment, and the integration and governance of programs. The Public Policy Institute of California is a nonprofit, nonpartisan think tank dedicated to informing and improving public policy in California through independent, objective, nonpartisan research.
Kidsdata in Action
First 5's 2018 Child Health, Education, and Care Summit, April 11-12.
Along with several of our partners, we will discuss the relationship between poverty and adversity. Also, we will share new data on adversity and introduce county-level dashboards on adversity over the life course. We hope to see you there!
Recently Released Data
We are continuously updating data. Click the links below to see the latest:
Children with Two or More Adverse Experiences (Parent Reported)
Children Who Are Resilient (Parent Reported)
Prevalence of Childhood Hardships (Maternal Retrospective)
Posted by kidsdata.org
This entry was posted on Tuesday, April 10th, 2018 at 8:22 am. You can follow any responses to this entry through the RSS 2.0 feed. You can leave a response, or trackback from your own site.