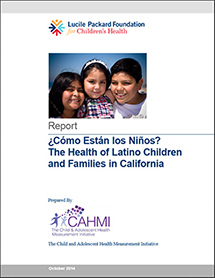 Downloads
Full Report
Press Release
Press Release (Spanish)
A comprehensive new study of California's Latino children paints a complex picture of their health and well-being—and finds striking differences within a 4.7 million-strong population that comprises more than half of all the children in the state.
More than 94% of these children were born in the United States. And while many Latino children live in poverty, are uninsured and have higher rates of obesity than their white counterparts, Latino children have comparable access to preventive health care and most of their parents report them as being in "good" or "excellent" health.
However, the researchers also found that children living in "linguistically isolated" families, where Spanish is primarily spoken, face far greater challenges in health access and educational achievement compared to children in families where both English and Spanish are spoken.
The study was conducted by researchers from the university-based Child and Adolescent Health Measurement Initiative and commissioned by the Lucile Packard Foundation for Children's Health. The researchers examined data on physical health, as well as on family, school and neighborhood environments, to create a picture of the current status of Latino children in the state.
The study is intended to provide data for policymakers and advocates working both to improve the current health and well-being of Latino children and to ensure a healthy future population for California.
"Health is such a critical component of future success for California's Latino children. If they don't achieve their full potential, it will be a terrible economic burden for the state," said Dr. Fernando Mendoza, professor of pediatrics at the Lucile Packard Children's Hospital Stanford and one of the health experts consulted for the study. "This study shows the need to develop policies that improve access to health care, address language and cultural barriers to better health, and ameliorate the harmful health effects caused by poverty."
The California findings are largely consistent with those of a recently released national study of Latino children, which noted lower rates of health insurance among Latino children compared to white children and raised concerns about persistent health disparities, but also highlighted solid gains in educational achievement.
Related Content:
Kidsdata.org: Data on Latino/Hispanic Children in California, by County, School District and Legislative District
Posted by Barbara Feder Ostrov
This entry was posted on Tuesday, October 21st, 2014 at 12:01 am. You can follow any responses to this entry through the RSS 2.0 feed. You can leave a response, or trackback from your own site.