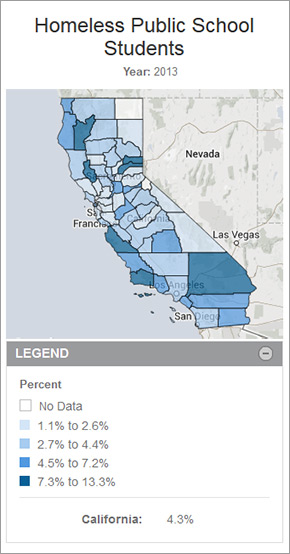 The story of California's homeless students is largely a hidden one—many are doubled up with family and friends, while others live in shelters.
New data available for the first time, however, show the extent of homelessness of California's pre-K-12 students enrolled in public schools.
Nearly 270,000 public school students in Calif. were homeless at some point in the 2012-2013 school year. That equates to about 4% of all California's public school students, double the national average. California accounted for just over one-fifth of all homeless public school students in the U.S. that school year.
The data released today come from a partnership between the California Homeless Youth Project and kidsdata.org. The data are sorted by county, school district and legislative district and are available only on kidsdata.org.
See the data:
Homeless Public School Students
Learn more about the scope of student homelessness:
Issue Brief: California's Homeless Students: A Growing Population (PDF)
California Homeless Youth Project
FAQ: Frequently Asked Questions about California's Homeless Students (PDF)
Press Release: California's Homeless Students: Nearly 270,000 and Growing (PDF)
Posted by kidsdata.org
This entry was posted on Tuesday, September 9th, 2014 at 4:35 pm. You can follow any responses to this entry through the RSS 2.0 feed. You can leave a response, or trackback from your own site.