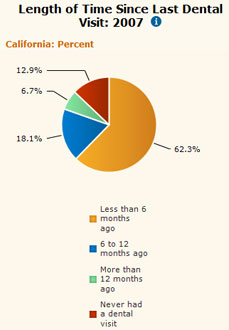 PICO California and the 100% campaign (a joint venture of the Children's Partnership, Children Now, and the Children's Defense Fund) have released a new checklist to help parents get their kids off to a healthy start this school year. The checklist reminds parents to schedule dental appointments (and set a reminder to re-schedule every six months), obtain required immunizations and physicals, and ensure coverage in a healthcare insurance plan.
According to 2007 data on kidsdata.org, over 6% of children had not seen a dentist in over 12 months, and another 13% of children had never seen a dentist.
In 2009, 5% of children ages 0-17 in California did not have any health coverage.
See the checklist to make sure your child is healthy for back-to-school >>
Tags: Child Health Issues
Posted by kidsdata.org
This entry was posted on Monday, August 15th, 2011 at 3:57 pm. You can follow any responses to this entry through the RSS 2.0 feed. You can leave a response, or trackback from your own site.