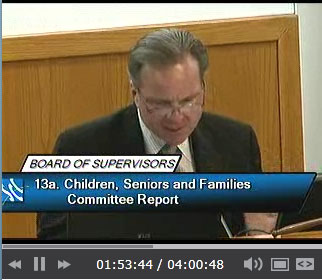 Given our foundation's mission to elevate the priority of children's health, it's encouraging to see that the Santa Clara County Board of Supervisors has taken steps to consider the impact its decisions have on the county's 430,000 children.
On June 21, the Board voted to adopt Child Impact Statements as part of every decision, beginning July 1. Proposed by Supervisor Dave Cortese as part of his Year of the Child initiative for 2011, these impact statements will help supervisors consider implications of given policies on children and youth.
To hear the Board's vote, and accompanying support statements, watch the video.
See data about Santa Clara County kids at http://www.kidsdata.org/santaclara.
Posted by kidsdata.org
This entry was posted on Wednesday, June 22nd, 2011 at 4:05 pm. You can follow any responses to this entry through the RSS 2.0 feed. You can leave a response, or trackback from your own site.