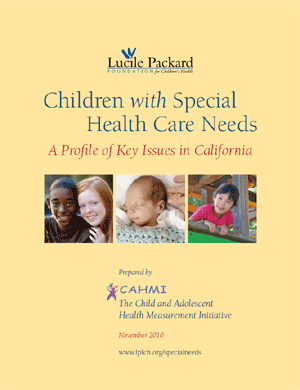 Approximately one in seven children in California has a special health care need — that's 1.4 million children. Yet our state ranks last in the nation on a minimum quality of care index that assesses adequacy of insurance, provision of basic preventive care, and meeting minimal criteria for care that is ongoing, comprehensive, coordinated, and family-centered.
This striking finding comes from a just-released study, Children with Special Health Care Needs: A Profile of Key Issues in California, commissioned by our Foundation and prepared by Dr. Christina Bethell and her colleagues at the Child and Adolescent Health Measurement Initiative (CAHMI).
The researchers also found that California ranks at or near the bottom nationally on numerous other measures, including transition to adult health care, stress among parents, and receipt of needed mental health services.
Such troubling findings will come as no surprise to California families who are caring for a child with special needs, or to the thousands of individuals throughout the state who work with, and on behalf of, these children and their families. The roadblocks that prevent development of a high-quality system of care are longstanding, complex, and difficult to overcome.
Here at the Foundation, we believe these findings signal that the time has come to join forces in a new way to bring about broad and lasting change. For the past two years we have been focusing our efforts on improving California's system of care. We have convened experts — both providers and consumers — to develop a model for a higher quality care system.
Now, we are launching the California Collaborative for Children with Special Health Care Needs to create a shared agenda and to advocate for changes that bring the system closer to this model.
A key goal of this ongoing, statewide Collaborative will be to look beyond specific organizational issues and speak with one voice to decision-makers about the need for a more effective and efficient system for all children with special needs. The Collaborative will not replicate the many valuable efforts under way throughout the state, but will offer a unique opportunity for a cross-system partnership that can assemble the critical mass necessary to bring about significant change.
Collaborative members will include patients, families and caregivers, providers, insurers, disease-specific advocacy organizations, educators, researchers, and public and private agencies. Members will share information and will address issues that matter to all of these constituencies, such as adequacy of insurance, better access to medical specialists, education primary care providers on special needs, ethnic and income disparities; enhancing support for families, and smoothing the transition to adult health care.
The Foundation is committed to working with others on a long-term basis to bring these issues to public attention and to achieve results. We are committing staff and resources. I hope you will sign up now to receive information about the Collaborative as it develops.

Posted by David Alexander, MD
This entry was posted on Wednesday, November 17th, 2010 at 11:22 am. You can follow any responses to this entry through the RSS 2.0 feed. You can leave a response, or trackback from your own site.