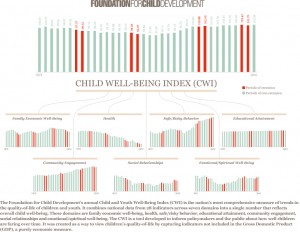 The Foundation for Child Development released its annual Child and Youth Well-Being Index for 2011. The index, compiled by Duke University's Kenneth Land, provides a summary measure of how child well being has evolved over time in the U.S.
According to the 2011 index, children are struggling with social and economic instability. Some of the key findings from the report include:
Families have lost all economic gains they've made since 1975, and are likely to continue losing ground.
The percentage of children living in poverty stands to increase.
There has been no substantial improvement in health insurance coverage for children. Seven million American children are still uninsured, and the number is growing.
As additional funding from the Federal Stimulus Package ends, conditions may deteriorate further for children if federal and state governments don't make investments to fill this gap.
In 2009, our foundation commissioned Prof. Land to create the California Index of Child and Youth Well-Being. See our index>>
Also see: Related data on kidsdata.org: