Posts Tagged 'Data Sources'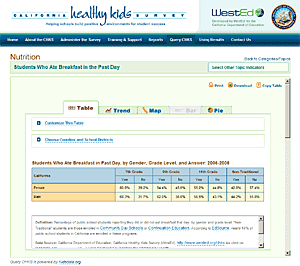 Finding timely measures of critical issues such as teenage depression, bullying, and drug use can be quite challenging. Fortunately, here in California, we have a rich database of self-reported information for these and other behavioral/emotional health topics through the California Healthy Kids Survey (CHKS). Thanks to a partnership with WestEd, which administers the survey, and the California Department of Education, kidsdata.org offers more than 80 indicators from CHKS – all available at the school district level. This month, we're extending that partnership, with WestEd's announcement of the launch of its new website, Query CHKS, which allows users to view and customize data from CHKS directly from WestEd's own site.
Query CHKS combines the wealth of valuable data from the survey with the data display of kidsdata.org, allowing for easy access to the millions of data points available through CHKS. Many of the tools available on kidsdata.org now are available on Query CHKS, including the ability to view data as trend or bar graphs, maps, pie charts, and tables; as well as the options to download or copy those data.
And, as the data are updated on kidsdata.org, they will automatically be updated on QueryCHKS.
You can add a graph from kidsdata.org to your website, too. Simply find the data you're interested in, customize the chart with your preferences, and click "embed" in the top right.

Posted by kidsdata.org
Tags: Data Projects, Data Sources, News About Kidsdata.org

Post Comment