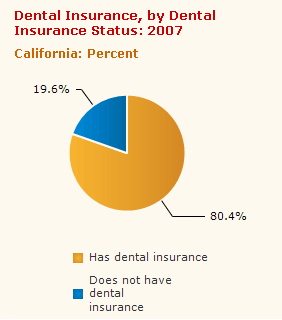 A recent article in the New York Times sheds light on the current state of California's children and their dental health, a condition which one  Alameda County public health administrator called "an epidemic of  dental disease in children that's absurdly pervasive."
The numbers are alarming – in 2007, nearly 20 percent of California children ages 2-17 were without dental insurance, compared to 6% of kids statewide who lacked health insurance. In the same year, more than a half-million California children ages 5-17 missed at least one day of school in a year due to dental problems.
Add on the fact that the state's subsidized dental programs for  low-income families are at risk of budget cuts, combined with the small percentage of dentists who are willing to participate in these programs, it's clear to see why dental disease is considered a epidemic.
For a local perspective on dental care in California, check out a 2007 brief from our foundation, Children's Dental Health: the 2007 Check-Up for Santa Clara and San Mateo Counties. This summary report highlights data that are available on kids' dental care;
opportunities for action; and related local and statewide resources.
Tags: Child Health Issues
Posted by kidsdata.org
This entry was posted on Friday, May 28th, 2010 at 7:24 pm. You can follow any responses to this entry through the RSS 2.0 feed. You can leave a response, or trackback from your own site.