Survey: One in five 9th graders in CA considered suicide
The percentage of students in California public schools who reported suicidal ideation within the past year is disturbing—nearly 1 in every 5 students in grades 9, 11, and non-traditional classes, according to the 2011-13 results of a statewide survey.

While higher percentages of female students reported contemplating suicide (22%), verses male students (14%), substantially more males die from suicide. Of the 452 young people ages 15-24 in California who were known to have committed suicide in 2013, nearly 80% were male. When divided by race, youth suicides were proportionate to the overall racial makeup of the state, with the exception of white youth, who make up 27% of the state's population but 42% of youth suicides, and Hispanic/Latino youth, who make up 52% of the state's population but 36% of youth suicides.

In 2013, suicide was the nation's second leading cause of death for youth between the ages of 15-24. Between 2011-2013, California's youth suicide rate was 7.7 per 100,000 youth ages 15-24, lower than the national figure of 11.1 per 100,000 during the same period, but stubbornly high for a preventable public health problem.
Related Data:
Helpful Links
American Foundation for Suicide Prevention

California Youth Crisis Line

Are the Children Well? A Model and Recommendations for Promoting the Mental Wellness of the Nation's Young People, 2014, Robert Wood Johnson Foundation, Murphey D., et al.

Bullying and Suicide: A Public Health Approach, 7/2013, Journal of Adolescent Health, Hertz, M. F., et al.

Children's Mental Health, 2013, Centers for Disease Control and Prevention

Mental Health and Suicidality Among Racially/Ethnically Diverse Sexual Minority Youths, 7/2014, Williams Institute, Bostwick, W. B., et al.

Preventing Suicide: A Toolkit for High Schools, 6/2012, U.S. Department of Health and Human Services, Substance Abuse and Mental Health Services Administration

Suicide Trends Among Persons Aged 10–24 Years – United States, 1994–2012, 3/2015, Centers for Disease Control and Prevention, Morbidity and Mortality Weekly Report

Transitioning to Adulthood: The Role of Adolescent Depression and Suicidal Ideation, 11/2014, Child Trends, Terzian, M., et al.



Kidsdata Tip
Interested in how others are using kidsdata.org in their work? Check out recent examples and share your own experience here.
---
Suicidal Ideation (Student Reported), by Grade Level
Years: 2011-2013
Student Response: Yes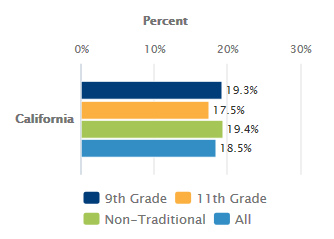 ---