School Health Centers: Higher Numbers, Uneven Distribution
Los Angeles County has 73. Alameda County has 25 and San Diego County has 14. San Mateo, Tulare, Sacramento and Ventura counties have two each. School health centers, which provide a "medical home" for many underserved and uninsured students, are opening in increasing numbers in California.

In 2009 the state was home to 153 centers. Now there are 231. All are located in just 28 of California's 58 counties, with most in urban centers, according to new data posted on kidsdata.org.

See number of school health centers by county>>

School health centers offer a range of services, such as primary medical care, mental or behavioral health care, dental care, substance abuse services, and health and nutrition education. Having the centers on campus or nearby reduces barriers to care such as transportation and scheduling.

Research has found that centers can lead to improved access to medical and dental care, better health outcomes, and improved school performance. They also have been shown to reduce emergency room visits and health care costs, and improve population health.

School health centers are financed through a variety of sources depending upon school and district needs.
See Related Data
Helpful Links
California School-Based Health Alliance

Policy Statements, School-Based Health Alliance

The Center for Health and Health Care in Schools

School-Based Health Centers and Pediatric Practice: Policy Statement from the American Academy of Pediatrics



Kidsdata Tip
Our short tutorial videos cover how to find the data you need, tailor the data format for your needs, export data for analysis and communicate your data in reports, presentations, proposals, social media and more. More information>>
---
School Health Centers
Year: 2015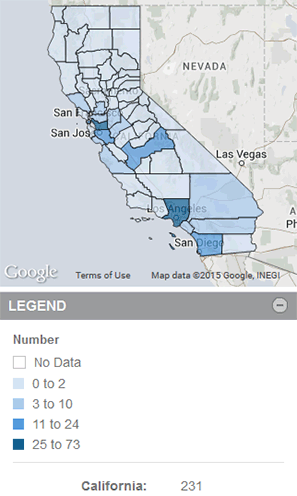 ---