How Safe Are Black Children in California?
"It's okay, I'm right here with you." These were the soft-spoken words of four-year-old Dae'Anna Reynolds, just minutes after she and her mother had witnessed the July 6 police shooting death—while sitting in the same car—of Philando Castile in Falcon Heights, Minnesota. The Castile case, along with the police shooting deaths of black children such as Michael Brown and Tamir Rice, are reminders of the disparate levels of violence faced by black children in this country.

To better understand how safe black children are in California, Kidsdata provides a wealth of relevant data, broken down by race. In multiple categories, black children consistently face the worst outcomes when compared to children of other ethnicities: black and multiracial infants under one year old are dying at a high rate and black children and youth over one year old are also dying at a high rate.

The disparity in infant mortality rates is largely attributed to perinatal conditions and sleep-related incidents, but for children over the age of one, additional factors include death from violence committed by parents/caregivers as well as by non-parents/caregivers.

In school, data on Kidsdata show that a high percentage of black students report being bullied because of their race, compared to students of other races; and a high percentage of black students report feeling unsafe at school, compared to students of other races.

Last month, Sacramento County announced a $26 million initiative to address its high rate of black child deaths. Working with the Steering Committee on Reduction of African American Child Deaths, the program's goal is to organize community groups, engage policymakers, coordinate existing services, and push for data-driven accountability in order to reduce black child mortality by 10-20 percent by 2020.
Related Data:
Helpful Links
Understanding Racial and Ethnic Disparities in U.S. Infant Mortality Rates, Centers for Disease Control and Prevention

Black Children Die at Alarming Rate in Sacramento County, and Here's Why, The Sacramento Bee

Steering Committee on Reduction of African American Child Deaths, Sierra Health Foundation

Racial and Ethnic Stereotypes and Bullying Victimization, Youth & Society

First Full Year of NYPD Data Shows Black Students Disproportionately Arrested at School, New York Civil Liberties Union
Kidsdata in the News
A recent Kidsdata advisory that identified high rates of pediatric cancer in Napa and Marin counties has helped lead to a special report investigating the possible causes of these high rates. The report was presented to the Napa County Board of Supervisors in June. The board is now asking for an annual report on the topic.
---
Child/Youth Death Rate, by Race/Ethnicity
Years: 2011-2013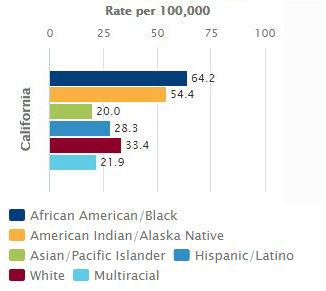 ---