Despite Progress, Kids Still Exposed to Pollutants in Many California Counties
Poor air quality, polluted water and exposure to lead have a particularly negative impact on children because their developing bodies are more fragile and their skin is more permeable. High levels of toxic substances in the environment put children at risk of developing serious chronic illnesses.
Newly updated data show that although some pollution measures in California have declined since the early 2000s, certain regions across California continue to face significant challenges with polluted air, contaminated drinking water, and dangerous toxins, such as lead.
Pollution also can affect families and communities in other ways, increasing costs for health care and basic needs like clean water. Research has shown that low-income families and communities of color are disproportionately exposed to pollution. Kidsdata.org offers several environmental health measures that can help track children's exposure to pollutants.
Air Quality:
Lead Exposure:
Water Contamination:
Helpful Links
---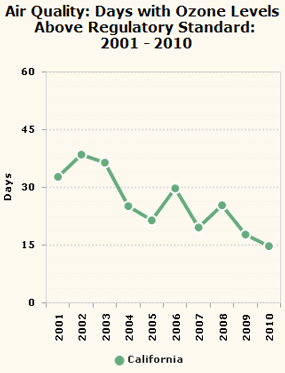 In 2010, California had an average of 15 days with ozone levels above the U.S. standard, a decline from 39 in 2002. Environmental pollutants put children at risk of developing serious illnesses, such as asthma and cancer.
---