Data by Legislative District Now Available on Kidsdata.org
A range of demographic and economic data for every Congressional, Assembly, and State Senate district in California is now available on kidsdata.org, drawn from recently posted data from the Census Bureau's American Community Survey. These five-year (2005-2009) estimates are available for nearly a dozen measures related to children and families.
Use Legislative District Data in Your Work: Three Easy Steps
1. Get the Data You Need
 We have 2005-2009 data by legislative district (i.e., Congressional, State Senate, and Assembly District) for the following measures:

2. Use These Data to Inform Your Work
Research and provide tailored outreach to legislators
Incorporate baseline information into analyses, reports, speeches, letters to constituents, and community assessments
Create policy fact sheets

3. Enhance Newsletters, Websites, and Other Materials with Kidsdata.org's Graphs, Maps, and Background Information
Copy tables and graphs into Word or PowerPoint (click the link above any indicator)

Embed customizable graphs and maps on web pages or blogs (click the link on the top of any indicator page)

Find deeper perspective on these topics through links to research, a section on policy implications, and other contextual information:
Demographics | Family Structure | Immigration | Poverty/Family Income

Data Highlights
---
See a map of poverty data for your Assembly, State Senate, or Congressional district.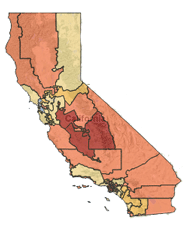 ---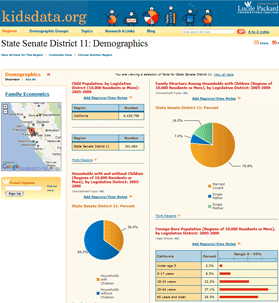 Find summaries of data for all of California's legislative districts through our regional dashboards.
---