A Barometer of the Health of California: 2010 Infant Mortality Rates and Related Data Now Available
With more than a half a million babies born in 2010, California has the largest number of births among all states in the nation. Infant mortality rates and other data related to these births can help gauge the current and future health and well being of families and communities, and signal potential public health challenges. Although California's infant mortality rate is at a historic low, newly updated indicators on kidsdata.org -- which also include preterm births, low birthweight, and prenatal care -- continue to show striking racial/ethnic and geographic disparities in the state.
Societal Implications
Often considered a barometer for the nation's health, infant mortality is a key indicator, as it is associated with a variety of factors, including maternal health, quality of and access to medical care, socioeconomic conditions, and public health practices. Early access to high-quality prenatal and infant check-ups can help identify and address some risk factors for infant mortality. The leading causes of infant mortality include birth defects and disorders related to prematurity and low birthweight.
Data related to infant mortality also have larger societal implications. Babies born prematurely or at low birthweight are at increased risk of having special health care needs, including learning disabilities, chronic respiratory problems, cerebral palsy, hearing and vision impairments, autism, and other conditions that can limit their ability to contribute to society.
Key Findings
The Opportunity of Health Care Reform

As California implements the Patient Protection and Affordable Care Act, there is a significant opportunity to improve maternal and infant health outcomes. Under the Affordable Care Act, private health plans are required to cover preventive health care for women, including prenatal care, with no cost sharing. In addition, more women of childbearing age who are currently uninsured will have access to health coverage. In the coming years, California will implement maternal, infant, and early childhood home visiting programs to provide comprehensive and coordinated services for at-risk families.
For more information on the policy implications surrounding infant mortality, click here.
---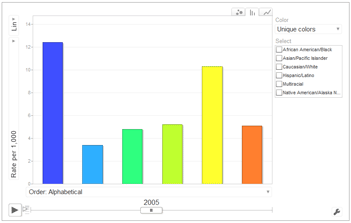 Racial/ethnic disparities persist in infant mortality rates for California. View this motion chart to track changes over time.
---