Get the Data That Matter -- to You
Need to keep up to date on data and information about the health and well being of children? Kidsdata.org, a public service from the Lucile Packard Foundation for Children's Health, offers a number of tools to put local data directly in your hands.

Here are three things you can do to keep current on how kids in your community are faring:
Get Data Delivered to Your Inbox.
With e-mail alerts, you will know whenever data about kids in your community are updated on kidsdata.org. Only interested in children in Los Angeles? Or San Jose? Or Clovis Unified? Perhaps your work focuses on a particular topic -- child abuse, or asthma, or education? Sign up to receive an e-mail alert from us as soon as data that you select are updated.

Keep Current on Issues Affecting Kids - Follow Kidsdata on Twitter.
We're tweeting a daily fact about kids' health, as well as news affecting children, events, health observances and blog posts. Follow us at http://www.twitter.com/kidsdata.

Join the Conversation About CA's Children - 'Like' Us on Facebook.
On Facebook, we offer more analysis of the data on kidsdata.org, intriguing polls and questions about data. 'Like' kidsdata on Facebook at http://www.facebook.com/kidsdata.
In addition, you can sign up for advisories just like this one, and we'll send you regular newsletters offering statewide analysis of newly updated data, as well as news about enhancements to kidsdata.org.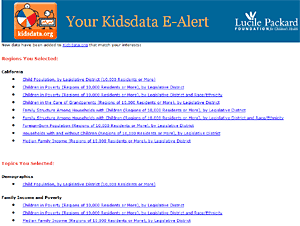 Sign up to receive an e-mail alert from us as soon as data that matter to you are updated. More about e-alerts>>
---