New Indicator Assesses Teens Who Are Not in School or Working
Research has shown that teenagers who are neither in school nor working are more likely than other youth to struggle with mental illness or substance abuse, encounter violence, and become teen parents. Given the significance of this topic, kidsdata.org just added 2010 and historical data on the percentage of such disconnected youth in California's largest counties and cities (those with 250,000 residents or more). These data come from the Census Bureau's American Community Survey.
Data Highlights
Why This Topic Is Important
Because engagement in school or the workforce is critical to the transition from adolescence to adulthood, detachment from those settings—especially detachment that spans several years—can impede development toward productive, self-sufficient adult lives. More context and related research/websites >>
Tell Your Friends and Colleagues

Those who work to improve the health and well being of children often require assistance in making their case. As a foundation devoted to bringing attention to key children's health issues, we want to make sharing up-to-date, reliable data as easy as possible. Please forward this announcement to your friends and colleagues who work on behalf of kids.
---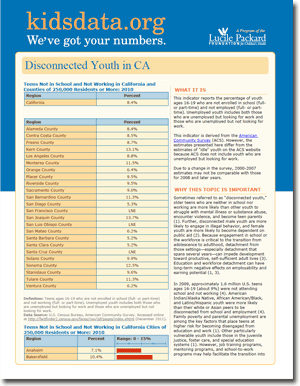 Take this Printable Fact Sheet with you to your next meeting about youth in California.
---