Child Abuse Cases in CA Drop by 1/4 in Last Decade
For Child Abuse Prevention Month, we are happy to report some good news: The rate of substantiated cases of child abuse and neglect in California dropped by 25 percent between 2004-2014, according to the most recent data available on Kidsdata.

More than 80 percent of counties saw a decline in their rates of substantiated child abuse cases during this time period. Merced, Lake, Santa Cruz, and Colusa counties all saw the steepest declines. During the entire 10-year period, higher rates were concentrated in the state's northern counties.

23 per 1,000 children in both the African American and American Indian communities experienced substantiated cases of abuse in 2014, the highest by far among ethnic groups. Rates for those two groups were also the highest in 2004. Children ages 0-5 make up nearly half of all substantiated abuse cases, but only one-third of the state's child population. In addition, children with special needs and those in the foster care system are also at higher risk of abuse.

Children who are abused or neglected are more likely to experience cognitive, emotional, and behavioral problems, as well as disruptions in brain and physical development, which increase the risk for health problems in adulthood. Children who are abused or neglected also are more likely to repeat the cycle of violence by entering into violent relationships as teens and adults or by abusing their own children.

Beyond the impact on individuals, child abuse has a significant impact on society; the total lifetime economic cost due to new child maltreatment cases in a single year is estimated at $124 billion in the U.S.

While California has made major strides in these areas in recent years, continued efforts are needed to ensure the safety of all children. According to experts, programs that can help address child abuse/neglect include: continuing to ensure that effective prevention services are in place, including risk assessment and home-visiting services for families with children at risk of abuse; supporting policies that help reduce family stress, promote stable environments for children, and ensure that affordable child care is available; and providing an accessible system of mental health services for parents and children.
Related Data:
Helpful Links
Children and Family Services Division, California Dept. of Social Services

Office of Planning, Research & Evaluation: Abuse, Neglect, Adoption & Foster Care, U.S. Dept. of Health and Human Services, Administration for Children & Families

A Hidden Crisis: Findings on Adverse Childhood Experiences in California, Center for Youth Wellness

Cost of Child Abuse and Neglect Rival Other Major Public Health Problems, National Center for Injury Prevention and Control

Income Inequality and Child Maltreatment in the United States, Pediatrics

Subsequent Maltreatment in Children With Disabilities After an Unsubstantiated Report for Neglect, JAMA: The Journal of the American Medical Association
Kidsdata Tip
Thanks to all of you, Kidsdata now has more than 5,000 followers on Twitter! Keep up with the latest children's health news by following us on Facebook and Twitter.
---
Substantiated Cases of Child Abuse and Neglect
Years: 2004 to 2014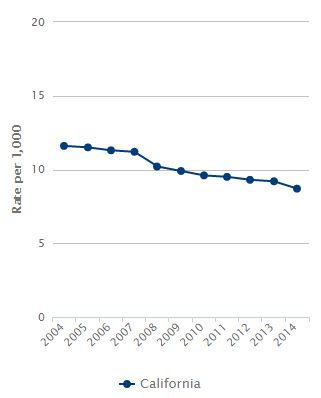 ---