The Food Safety Net: Almost 4.5 Million Californians Received CalFresh (Food Stamps) This Year
In 2014, almost 4.5 million Californians participated in the CalFresh supplemental food program, formerly known as Food Stamps. Latino and white households represented the majority of CalFresh recipients in 2014, accounting for more than 75% of the approximately 2 million total households receiving assistance.

See CalFresh data by county>>

See CalFresh data by race/ethnicity and county>>

Families and individuals generally are eligible for CalFresh food assistance benefits if their gross monthly income is 200% or less of the federal poverty level, (currently $3,976 for a family of four) and meet legal residency and other criteria.

However, only about 57% (PDF) of eligible children and adults participate in CalFresh, the lowest percentage of any U.S. state except Wyoming, according to U.S. Department of Agriculture research. Programs like CalFresh and subsidized school meals that provide safety-net nutrition for children have been shown to improve children's health and school performance.
See Food Stamp and Food Security Data for California Children and Families
Helpful Links
California Food Policy Advocates
Child Trends: Food Insecurity
Feeding America
Food Research and Action Center (FRAC)
National Center for Children in Poverty
USDA Food and Nutrition Service: School Meals
Webinar Recording Now Available
If you missed our recent webinar, Using Student Homelessness Data to Advocate on Behalf of Children and Families, the recording is now available. Nearly 270,000 public school students in the state were homeless at some point in the 2012-2013 school year. New data from the California Homeless Youth Project and available only on kidsdata.org are sorted by county, school district and legislative district. The data include information by grade level and nighttime residence. In this webinar, you'll learn more about this important new data set and how to use it in your work.
---
CalFresh (Food Stamp) Participation, by Race/Ethnicity
Year: 2014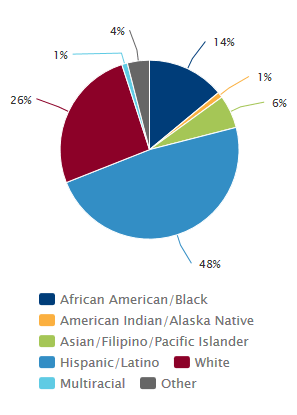 ---