As we wrap up National Children's Mental Health Awareness Week (May 5-11), we're seeing a striking increase in mental health-related hospitalizations of California kids.
This chart shows that the number of hospitalizations of California children ages 5-14 for mental health reasons has risen about 30% since 2007, even as the state's child population has dipped slightly in that time period. In 2011, there were 11,687 hospitalizations for mental health issues among children ages 5-14 in California and 23,514 among youth ages 15-19. Mental health issues are the most common reason for hospital stays among California's children.
At the same time, California cut its state mental health budget by about $750 million, or about 20%, between 2009 and 2012 according to a report by the National Alliance on Mental Illness. The result, the NAMI report suggests, is that California has seen a decrease in the availability of preventive and community-based mental health treatment options.
And as mental health services become harder for kids and teens to obtain amid budget cuts, the burden of mental health care shifts to hospital emergency departments, Dr. Mark Pearlmutter of the American College of Emergency Physicians said during a recent Congressional briefing sponsored by the National Association of State Mental Health Program Directors. Nationally, the demand for mental health services is rising at the same time that states continue to cut budgets.
According to a 2010 federal report on mental health in the United States, nearly half of children who met criteria for having any mental disorder did not get the treatment they needed.
Interested in learning more? Check out our other measures of California children's mental and emotional health here.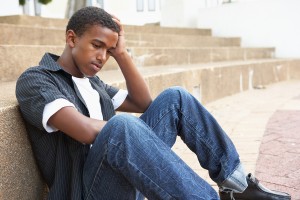 Children's Mental Health in the News
More U.S. Kids Diagnosed with Mental Health Disabilities, Study Finds
(U.S. News, 5/5/13, by Gordon)
http://health.usnews.com/health-news/news/articles/2013/05/05/more-kids-diagnosed-with-mental-health-disabilities-study-finds
Many Suicidal Children Have Access to Guns at Home, Study Finds
(USA Today, 5/6/13, by Szabo)
http://www.usatoday.com/story/news/nation/2013/05/06/suicidal-children-access-guns-home/2136931/?sf12472167=1
Prolonged Fatigue Linked to Mood and Anxiety Disorders in Teens, Study Finds
(Scope, 5/1/13, by Steakley)
http://scopeblog.stanford.edu/2013/05/01/prolonged-fatigue-and-mood-disorders-among-teens/
Abused Children Get Unique form of PTSD
(TIME, 4/30/13, by Szalavitz)
http://healthland.time.com/2013/04/30/abused-children-may-get-different-form-of-ptsd/