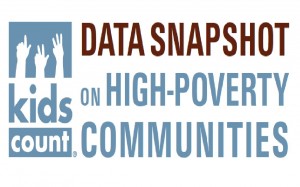 An Annie E. Casey Foundation analysis released last week shows that the percentage of children in California living in poor neighborhoods has decreased since 2000, despite the national increase in poverty levels. According to the breakdown in the analysis, the percent of California children living in neighborhoods where 30% or more residents live below the poverty threshold decreased by 9% from 2000 to 2010. In 2010, 11% of children statewide lived in neighborhoods where 30% or more of residents are in poverty. Figures vary widely by county, ranging from 37% of children living in such poverty-stricken neighborhoods in Fresno County to just 1.4% in Marin County.
See related coverage in CaliforniaWatch.org.
Related to this issue, an intriguing data map from USA Today helps document the increase in poverty levels nationwide. In particular, the map selection for poverty rates above 20% shows a noticeable increase in the rate as you wipe across the map from 1980 to 2010 data.
To help humanize the issue of family poverty, a PBS piece, Portraits of Hunger: Stories of Americans on Food Stamps, features the stories of several families who have found themselves in poverty and participate in the food stamp program.
Find data for your community about family income and poverty>>
Posted by kidsdata.org
This entry was posted on Friday, March 2nd, 2012 at 10:18 am. You can follow any responses to this entry through the RSS 2.0 feed. You can leave a response, or trackback from your own site.